House League
The primary objective of the House League program is to introduce the sport of basketball, good sportsmanship, physical development and of course FUN!
House League is held once a week on Saturdays. Training will include physical conditioning, skill development and competition.
Intercity
The primary objectives of the Intercity program is to prepare the athletes for competitive basketball league. The athletes will be required to try out for the team. Practices are held at least twice a week in the evenings.
Games will be played at home and away at several local gyms and organization across the city and neighboring communities.
• NOVICE players usually born between 2012-2013
• MINI players usually born between 2010-2011
• BANTAM players usually born 2008-2009
• MIDGET players usually born between 2006-2007
• JUVÉNILE players usually born between 2004-2005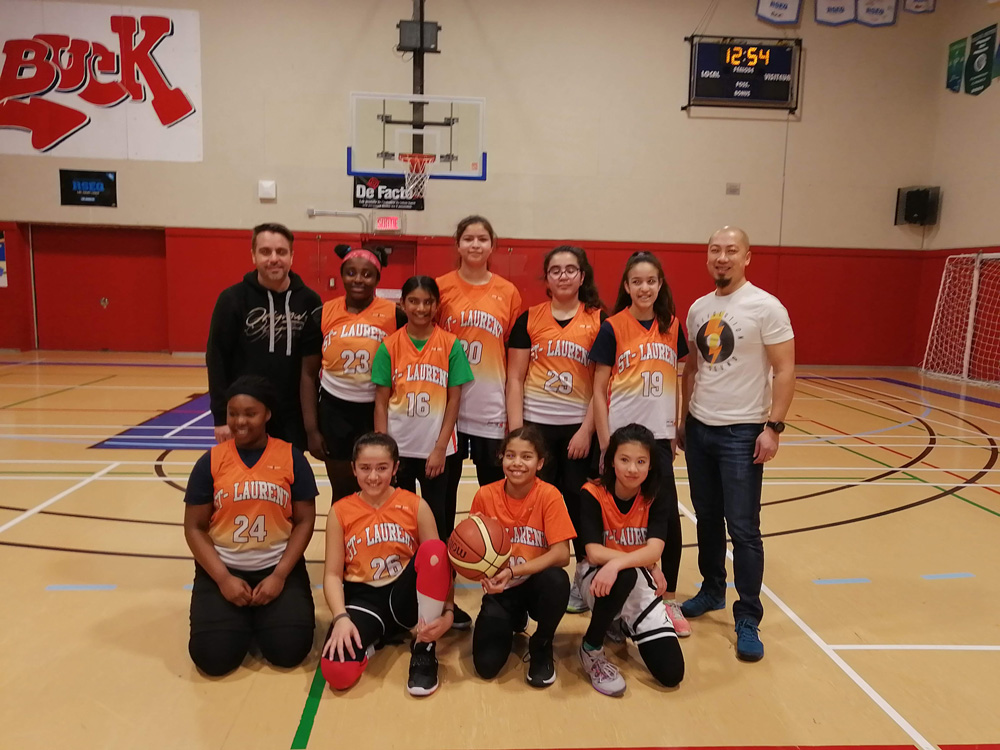 Adapted Program
The Adapted Program is committed to the inclusion of all athletes. Our athletes receive training once a week and benefit from smaller group sizes, tighter athlete-to-coach ratios, and adapted exercise programs. In addition, we enlist the aid of Behavioural Analysts and Registered Behaviour Technicians to train our staff in addressing the particular needs of our athletes. Our programming targets physical and technical skills through the vehicle of basketball. In addition, the program places a heavy emphasis on social skills and cooperation, as well as emotional regulation.
Our program specifically targets children with disabilities and welcomes athletes from across Montreal. Our program currently accepts athletes between the ages of 8 and 17 years. While many of our players have a diagnosis of Autism Spectrum Disorder, we accept children with any diagnosed disorder specifically addressing cognitive, behavioural, or adaptive delays/difficulties.
In addition to a completed registration, we request that parents provide us with a little background on their child. This background may include the player's strengths and weaknesses in a group setting as well as what behaviours led parents to seek out an adapted program for their child. This program believes in inclusion and development of ALL young athletes in our community, regardless of the athlete's abilities.
We are excited to share that the Adapted Saint Laurent Basketball Program has been selected by the Canadian Tire Jumpstart Program to receive support from their Sport Relief Fund. The fund helps community sport organizations like ours continue to provide access to sport and play for Canadian kids. This grant will go a long way towards helping us to continue offering our Adapted Program to children in need.
Since the inception of our program, we have also had the pleasure of receiving support from the Summit Foundation. This organization is dedicated to empowering children with disabilities to develop their social, physical, and cognitive skills, encouraging them to become independent and proud. Our Adapted Program aims to further this mission of awakening every child's potential.
Summer League
This is our Outdoor Summer Basketball program, duration usually 8-10 weeks. Training sessions takes place on the weekend at Parc Cousineau.
Workshops
The St-Laurent Basketball committee is planning to bring back technical training workshops with David King. The players will be able to refine their basketball skills and enjoy exhibiting them in playing basketball games. Coach King has obtained his level 3 National Coaching Certification Program (NCCP) certification. He will develop and oversee the coaching and development of the skills workshop program. Coach King was instrumental in the coaching of various basketball organisations, including the Montreal Royal of the American Basketball Association, the Quebec Provincial Centre for Excellence, the Quebec Provincial Team and the McGill University (previously known as Redmen).