Basketball St-Laurent is run by a team of highly motivated volunteers, certified coaches and hardworking professionals dedicated to the development of a quality program that encompasses the needs of every player.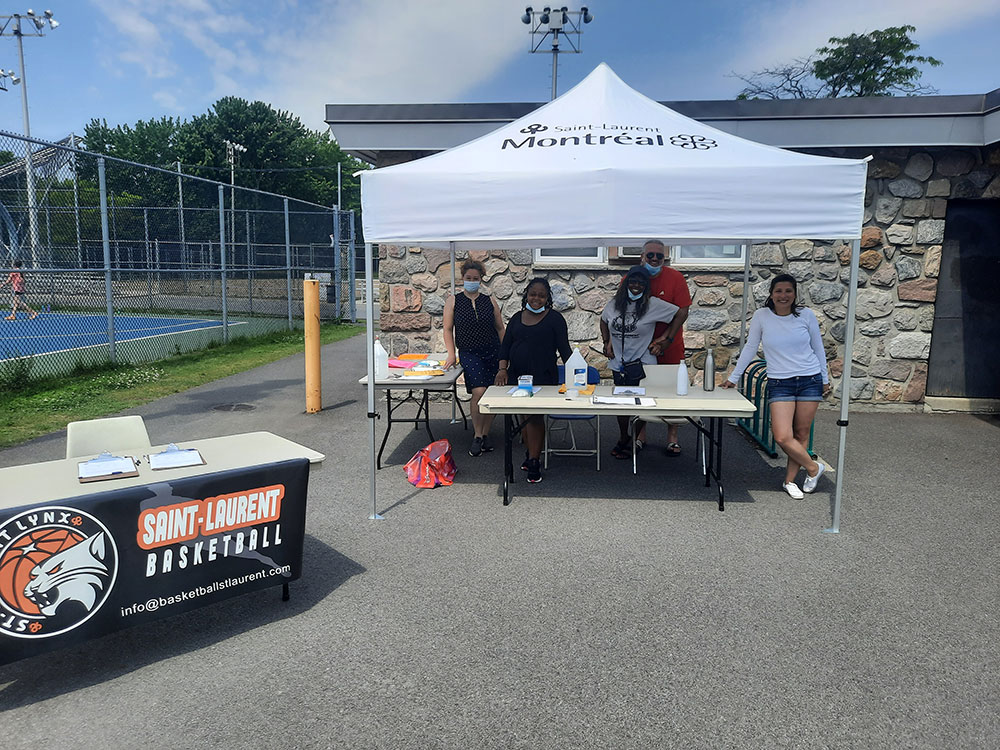 The Basketball St-Laurent committee is comprised of the following members.
Karine Lê
Maria Sareyeddine
Akira Baptiste
Kostas Maniatis
Steve Morisseau
Esmeralda Nicolescu
Noha Ahmed
Each program has a director that coordinates the session
House League: Dannielle Brown
Adaptive Program: Martin DeSousa and Michelle Racine
Intercity: Rowan Barnes
Summer League: Julia King
HISTORY
Basketball St-Laurent is a non-profit organisation, created in 1980, which offers a variety of high quality basketball programs (house league-recreational and intercity- competitive) for the youth and adults of our community. Our program emphasis is on player development, fun, team play, sportsmanship and respect, as well as competition. Our programs have seen steady growth and success over the past years.
The St. Laurent Basketball program has been serving the Saint Laurent /Montreal community for over 35 years. This program was initially started by a very enthusiastic St. Laurent Employee, Maryse Charbonneau. She was determined to bring a good solid Basketball program to the community. She hired a local elementary Physical Education teacher, Monique LeBlanc. Monique recruited several young athletes. Soon after, Danielle Brown was hired. With the help of another local Physical Education teacher, Pierre Gelinas. Together they reached out to several schools and families in the community and helped several immigrant and local young athletes find a place and sport within the community.
The program grew quickly as time passed particularly when Julia King, Michael Roy and Kostas Maniatis joined the Basketball St-Laurent family. Our athletes saw amazing success across the city and province. The coaches and athletes hard work allowed them to be recognized as champions at the provincial level. Several of the athletes went on to play for their high schools, colleges, universities and provincial team. Some have proudly even gone on to play in the professional leagues abroad in Europe and Asia. In fact, several of these champions have returned to coach and officiate in the program, giving back to a program they affectionately call the "St. Laurent Basketball Family".
We have a proud tradition of wonderful athletes who are now valuable members in our community serving in the R.C.M.P., Medicine (Surgeons, Family Doctors,) Nursing Practioners, Nurses, Teachers, Local police forces, Engineering, Business, Professional Basketball, and several other valuable employment roles in our society.
The Adapted Basketball Program was first started in 2017 by Audrey Poon. As her own children participated in the immensely popular Basketball St-Laurent House League, it became clear to her that a number of children struggled to succeed amongst large groups of their peers. She sought to create a program that could address the specific needs of those children, and thus began the Adapted program.
MISSION
Teach the fundamentals of basketball and develop young players of all backgrounds to become accomplished athletes and leaders while instilling values of community, inclusion, sportsmanship and growth.
Together our athletes, coaches, and volunteers create an environment of integrity and society through sport.
VALUES
Community
Inclusion
Sportsmanship
Growth